Digital Mortar's DM1
DM1 helps you understand how shoppers use your stores. Where they spend time. What they do first. What engages them. What doesn't. Use that knowledge to improve customer experience, optimize store layout, test and improve your signage, integrate digital experiences and optimize your Associate presence.
Powerful Enterprise Shopper Analytics
Full Journey Measurement
WiFi, Camera, Sniffer, ARFID, App
Pathing, Segmentation, Funnels, Events
PoS, Weather, Labor, VoC out-of-the-box Integrations
How it Works
We help you choose the right technologies, implement integrated data collection systems that deliver the positional accuracy, population coverage, and detail that you need to solve your business problems, and then we refine their raw data with advanced ML processes that take geolocation to the next level. Data is collected in your store, anonymized, transmitted to the cloud (Azure or Google), cleaned, processed and then provided back to you in rich, web-based analytics platform that lets you see how shoppers behave. How store changes impact that behavior. What works. What doesn't.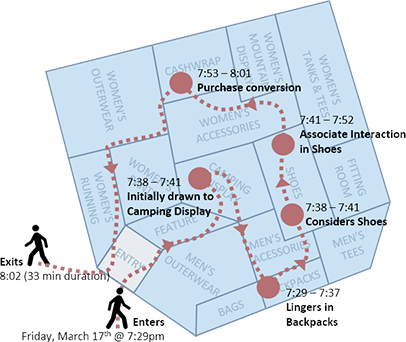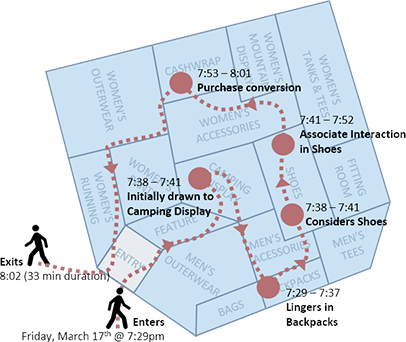 What makes it better
Better Technology

DM1 takes data from ANY geolocation technology. That means you get the right data collection for your needs. Using best-of-breed technology in today's evolving market? It just makes sense.
Read more
Better Data
Geolocation data is messy. That's a fact. But we use advanced ML to get better positional accuracy, isolate Associates from shoppers, and handle ghosting across floors or nearby spaces. We take the time to get your data right.
Read more
Better Analytics
Hey, check out the video. DM1 puts the data in the context of your store. It's a platform that can support everyone from your Store Managers to your data scientists.
Read more
Better Integration
Weather. PoS. Labor Data. Store VoC. No charge. Out of the box. Always. Want data back? We do that too – with CRM and full event-level feeds. You guessed it. Out of the box. No Charge.
Better Support
Digital Mortar was created by some of the leading analytics professionals in the world. We can help you implement analytics AND we can help you USE analytics to make your business better.
Read more