Putting the pieces together
DM1 is the missing technology piece in the omni-channel measurement puzzle. But now that you have all the pieces,
what do you do with the picture?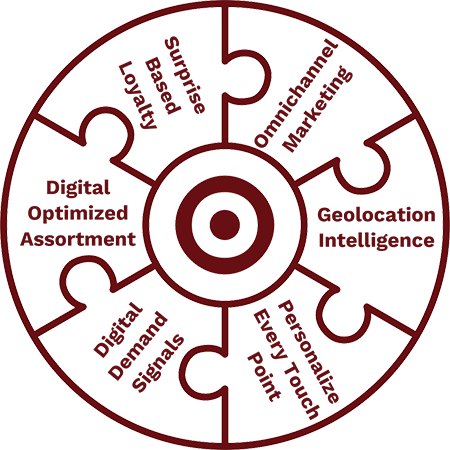 Start by tackling the key omni-channel experiences that drive modern retail success
Omni-Channel Marketing
Relevant data drives better marketing. That's just fact. And what data is more relevant than what shoppers looked at in-store? Finally, you can turn show-rooming into a real competitive advantage by using in-store behavior to drive digital re-marketing. Every product a shopper considered and didn't buy. Every return visit. What they looked at. What they gave deep consideration. You even know what they passed by and didn't care about (don't bother trying to sell that)! If you're looking to better personalize digital communication to shoppers, re-market more efficiently, or personalize the Website more effectively, in-store shopper interest data isn't gold. It's better than gold.
New data sources open up new opportunities
Geolocation Intelligence
As powerful as DM1 in-store customer journey is, it doesn't answer every question. We can help you navigate the complex world of 3rd Party location analytics data. Everything from satellite photography to Foursquare, Place.IQ, LiveRamp and Google. From better competitive intelligence to store location optimization to marketing attribution, location analytics data is the key to solving problems that have plagued retail for generations. We can help you navigate the complex world of 3rd Party data to find the information you need, integrate it appropriately, and use it well.
Data that can make every customer touch better and every marketing campaign more effective
Personalize Every Touch
With DM1 in place, you have a data source that has a striking resemblance to digital behavioral data. It's now possible to connect the what, where and when of customer shopping patterns across channel. Adding a physical behavioral data stream to your existing personalization activities can dramatically increase precision and effectiveness. The join across physical and digital can become the foundation of a more powerful engine for making the digital and store experiences better directly reflect each individual shopper.
Which lets you use analytics to re-think the fundamentals of loyalty and customer care
Surprise-based Loyalty
Loyalty programs are great for collecting data. But how good are they at creating lift and customer satisfaction? Not only is that a surprisingly tough question to answer, the findings are often a bitter pill to swallow. Most loyalty programs end up giving away margin to customers who would have bought anyway. And they often have minimal impact on customer satisfaction. That sucks. We can help you use analytics to revolutionize the fundamental way you use Loyalty Programs to actually surprise and delight customers. Loyalty programs that actually build loyalty? Novel concept…
Sometimes, the most important connections between online and offline aren't the ones your customer's make.
Digital Demand Signals
Chances are, your sitting on a treasure trove of incredibly valuable digital data that can help you optimize the store. But nobody in your digital team is paid to care. Digital is like AWACs for retailers. It can function as an early warning system for what's moving, what's slow, and what's different by region. Digital demand signals is a formal analysis that looks at every category and product you sell by region and season to understand when and where digital can be used as an early demand indicator. If you're not doing this analysis, you're not doing omni-channel analytics.
Digital data even informs classic in-store analytics problems
Digital Assortment Analysis
Sure, you already do sophisticated assortment analysis. But if you're like most retailers, you haven't made the connection between digital data and store data that can make it better. This isn't a question of analytics chops. It's a question of knowing and having access to the right data. If you already have an in-store analytics team that can do the heavy lifting, we can help them take the digital data and use it correctly to drive improved assortment analytics in the store.