Getting Data Right
We think good in-store customer journey data collection
has to be:
Accurate: Able to place the shopper at the display level of the store
Journey-Based: See the end-to-end shopper journey not just counts by zone
Comprehensive: Measure most shoppers not just mobile app users or those connected to wifi
Cost-Efficient: Reasonable for large stores and scalable across a large number of stores or even fleet-wide
Reliable: Enough to be deployed and easily maintained in many stores and large footprints
Sure, but how do you do that?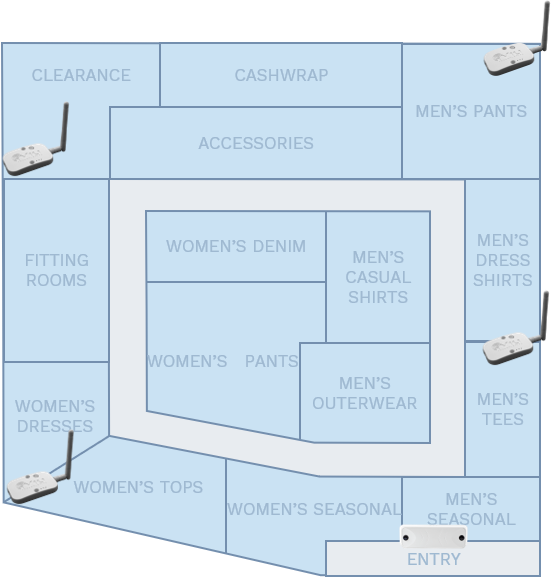 Hardware
Digital Mortar can leverage existing wifi, cameras or apps for full journey measurement.
Passive Sniffers, however, deliver a unique blend of accuracy and affordability that make them our most commonly deployed solution.
What These Are
Dedicated measurement devices the size of a credit card
Tracking smart phones
Passively without any connection requirement
Costing less than $200 per device
What they Do
That track the entire customer journey
Including most iPhones
At an accuracy down to 1.5 meters or better.
With easy installation, high reliability, and NO store impact
Want to learn about the installation process?
Getting Started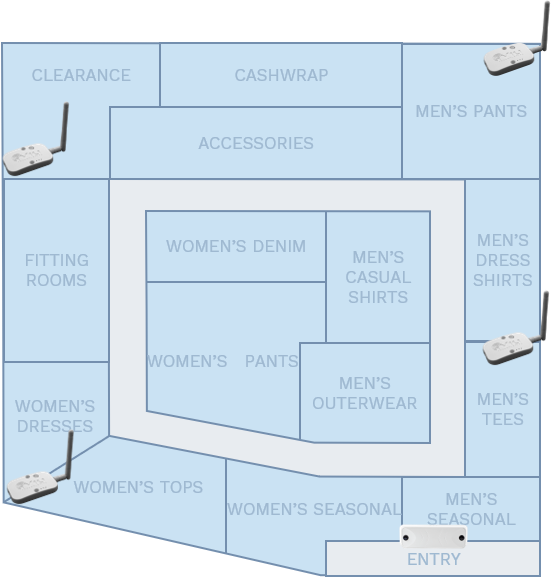 There are lots of choices for data collection, each with their own pros and cons.
Collection Hardware Comparison
No in-store shopper tracking technology is perfect. We're committed to finding the right solution based on your space, existing equipment, budget and measurement needs. That may require multiple technologies in combination or different solutions for different locations/functions. Our only goal is to architect the most effective, easy-to-implement, and cost-efficient solution that will meet your needs.
| | | | | |
| --- | --- | --- | --- | --- |
| | | | | |
| | Sniffer | Wifi | Camera | App |
| Cost | | | | |
| Capture Rate | | | | |
| Location Accuracy | | | | |
| Journey Tracking | | | | |
We architect these technologies to track Associates as well as Shoppers and use advanced analytics to make sure we get it right...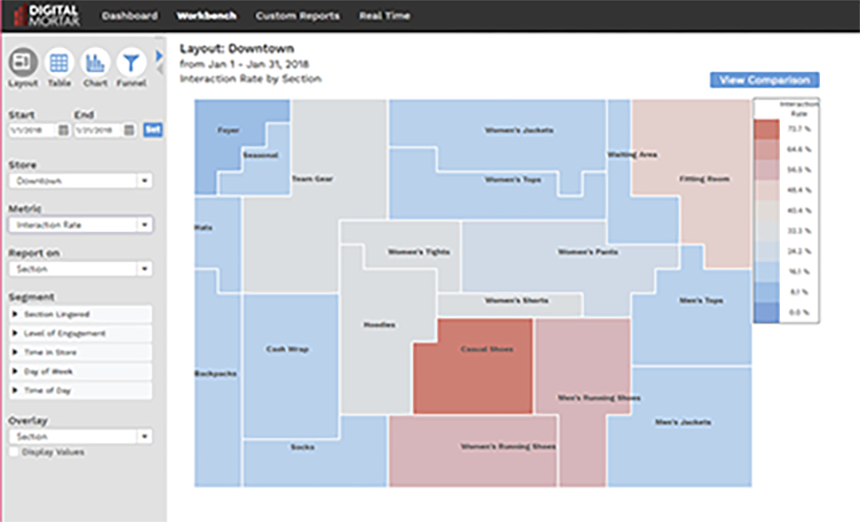 Associate Tracking
Seamless Associate Tracking with high positional accuracy and ping rate
Easy Compliance
Tracking options/flexibility: Store issued hardware, DM issued devices, Personal devices
Push Mechanisms
All of which enables DM1's incredible reporting and analytics
Analytics
DM TRACKS
Where customers (and staff) go in the store
What they look at and interact with
How much time they spend
Whether they talked with associates
If they successfully convert/buy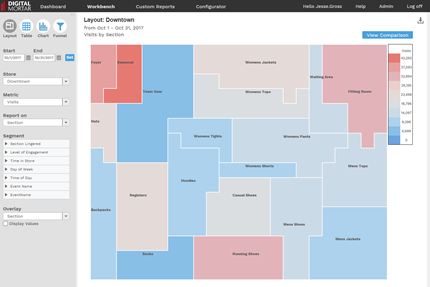 DM ADVANTAGES
Full path
Accurate
CRM join capable
Automated
Cost efficient
Scalable

An unparalleled quantitative experience measurement solution
Keep in mind that there is no one size fits all approach.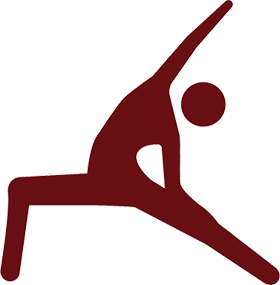 Flexible Architecture
Do you have a large-scale space (stadium, airport, resort, etc.) where adding hardware isn't viable?
Have you already committed to a camera based technology?
Do you need to track display interactions or add customer metadata, like gender and age, that electronic tracking doesn't 'see'?
Do you have a very small footprint store that demands absolute positional accuracy?

No problem, DM1 is an open system and can ingest data from existing wifi APs, cameras and/or app based tracking. We often blend technologies to get the best tracking for your specific needs.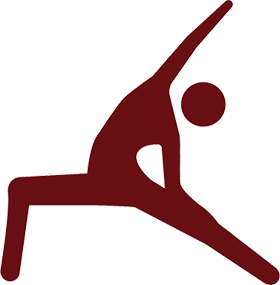 Of course, data collection doesn't end with the journey.
Data Integration
PoS
Staffing
Planograms
CRM
Digital analytics
Voice of Customer
Event Calendar
Weather
If you're ready to start using customer journey data, drop us a line: