Occupancy Management for Colleges: Case-Study
Occupancy Management for Colleges: Case-Study
By Gary Angel
|
August 26, 2020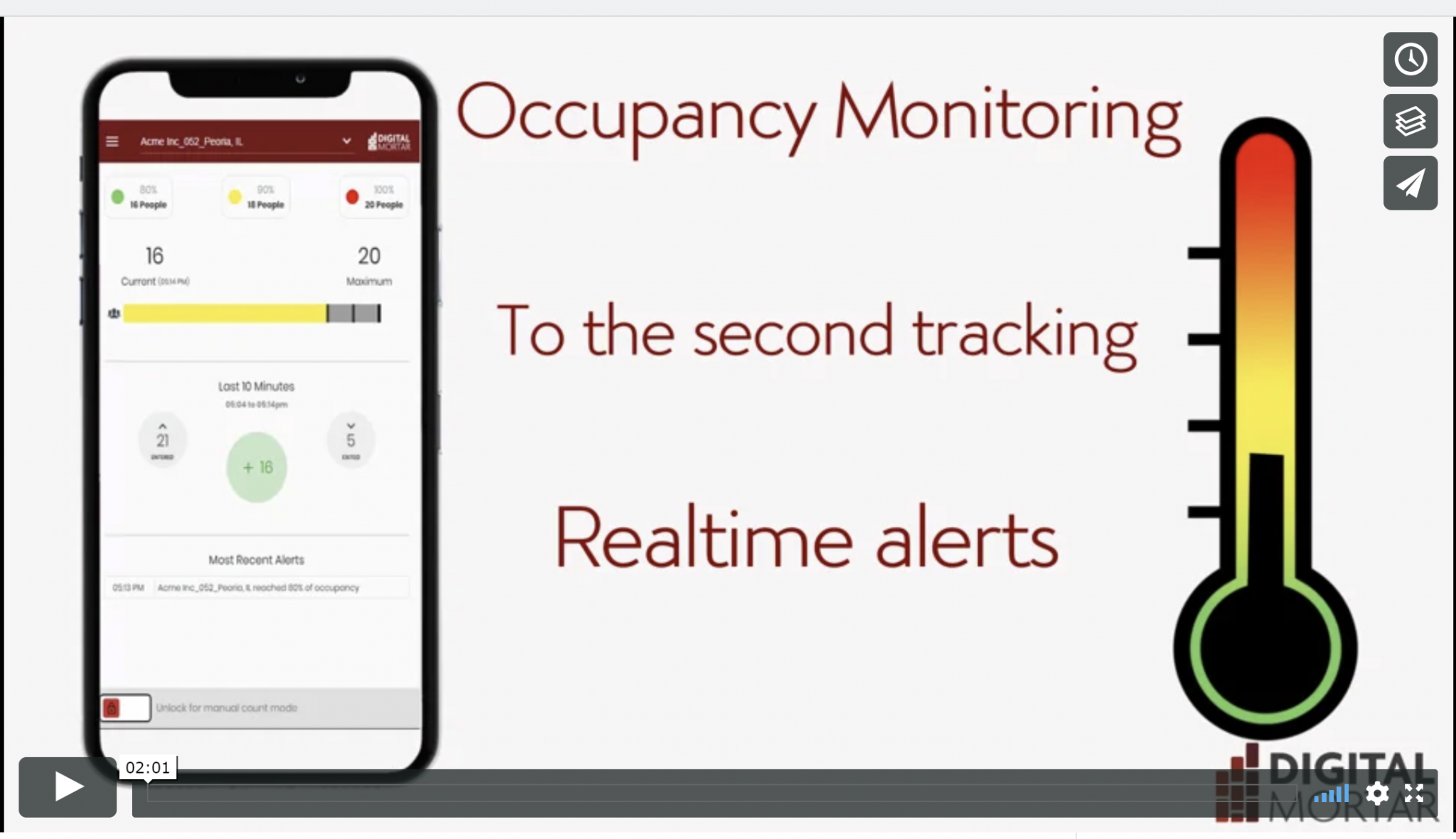 Challenge
A top rated private liberal arts college was looking to safely reopen to students.  Real-time occupancy monitoring was a critical need for Covid re-opening, particularly in the main dining facility. It had be re-configured to have a single point of entry and four exits.  The solution needed to both surface dining facility occupancy to students and streamline/simplify facility management for associates.
Solution
Digital Mortar's Occupancy Alert app was selected by the college for its ability to automatically measure occupancy in a diverse set of facilities, including dining, while meeting key requirements for publishing public occupancy data in real-time to  students and alerting facilities management whenever occupancy problems are occurring.
Through a simple, web based administrative portal the college was able to specify the real-time occupancy and forecasts they wished to surface to students.  The information is available as standalone, mobile optimized web page and an iframe embedded directly into the college's own web pages. It can also be setup to drive digital signage to allow students to easily monitor occupancy and plan accordingly.
Dining facilities managers and associates primarily use the iOS and Android application with customizable occupancy alerting thresholds and push notifications.  An occupancy capacity, based on current CDC guidelines, was set along with alert levels at 80%, 90% and 100% capacity.  Manager's accounts are configured to receive push notifications at all three levels, cashiers get norifications at the 90 and 100% levels, and all remaining dining room employees only receive the 100% notification.
Operational procedures were put in place around the notifications, including specifying in the app who was responsible for monitoring the door when capacity was reached, to ensure CDC compliance.
Result
Students have easy, immediate access to campus facility occupancy information so that they can make safe, informed decisions with only a quick glance at their phone or laptop.  Facilities managers and associates can focus on their regular jobs and only be concerned with occupancy when necessary.  And campus administrators receive a traffic analytics interface with historical data as a system of record for occupancy compliance, cleaning scheduling guidance and optimizing staffing.
Interested?
Occupancy Alert is precise, reliable, easy to install and surprisingly affordable.   It's ideal for retail, dining, college campuses, workplaces, public buildings, attractions, venues and more.