Qme : Seamless virtual queuing built on top of occupancy management
Qme : Seamless virtual queuing built on top of occupancy management
By Gary Angel
|
December 17, 2020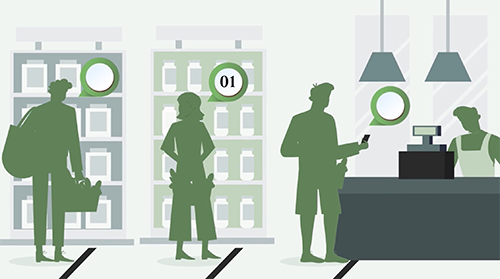 I hate lines. I always have. Is there any time or any place where standing in line is the best thing you could be doing? Pretty much no. But lines are hard to avoid. We live in a resource constrained world and whether the resource is a checkout counter, a customer service desk, a restaurant table, a sports stadium, an amusement park ride, an apartment gym, a pharmacy counter or a DMV teller – if there are more people than places available, you get a line.
Until now.
We've just rolled out Qme – a virtual queuing solution that means you don't have to be standing in a line to be in the queue. And what makes Qme special (and cool) is that it's built on top of our occupancy and queue analytics people-tracking solutions. That means that Qme has the smarts – unlike any other virtual queuing solution – to know what the line is actually like! That's a critical component that's just never existed in virtual queuing before.
Qme allows anyone to setup a virtual queue management system that really works. Customers text Qme with a location code. Qme checks current occupancy and either issues an immediate entrance pass or adds them to the virtual queue. It estimates the wait time, and regularly updates the user on their line position. When they're close, it lets them know and when there's occupancy available, it issues a pass. The user NEVER has to wait in line. They can spend their wait time shopping, walking, reading, studying – anything beats waiting in line, right?
Even better, Qme includes a powerful back-end that handles all sorts of different line-type. Pure virtual queues, mixed physical and virtual lines, curbside pickup lines, counter-station lines, notify-when-ready lines – Qme can handle them all. It even has the ability to do reservation system set-asides and fast-pass like capabilities to help shift traffic volume to less busy times. It really is a comprehensive virtual queuing solution for almost any business.
Qme is built to be simple and seamless. For the customer, it's all SMS-based. No App required. No downloads. Your customers don't need anything except a smartphone – and everyone has a smartphone. Like our Occupancy product, Qme has easily creatable Public Views – meaning it can be seamlessly integrated into digital signage or Web views. You can put up a single printed sign with Qme instructions at a counter and you're good. Or you can integrate Qme into your Website, your Mobile App and advanced digital signage. That works too. From a customer perspective, Qme is so easy and transparent that only the most minimal instructions are ever necessary.
For the enterprise, Qme isn't a lot harder. If your line applications are occupancy-based, you install our occupancy solution, create a Qme location code and setup any public views you want including digital or physical signage. That's all you need to do. If you're queues are fully virtual (like counter-service systems) or notify-when ready (like curbside pickup or prescription lines), you don't need anything except Qme and the ability of Associates to access the Web or a Mobile App. No complex integrations, no long development cycles.
And Qme is fantastically inexpensive. At $1 per day per location ($2 per day if you need Occupancy), it's the least expensive way to create customer experience you can imagine. It's so inexpensive, easy to setup and easy to use that it makes virtual queuing practical for anyone in any application: from college theater performances to government offices to local restaurants to national chains. Qme just makes lines better.
Visit the Qme Product Page or Check out short two-and-a-half minute Explainer Video for more information!